Garry's Restaurant Reviews
Welcome to Toronto: Restaurant review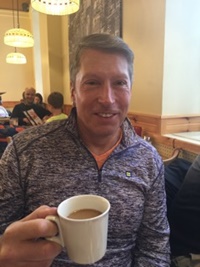 Garry Schleifer, Choice Magazine, great ACTO Conference Sponsor, and Toronto resident is sharing restaurant reviews each month to tickle your taste buds in preparation for the 2017 ACTO Conference, June 8-10.
Here is his first review and you won't believe what happened!!
~~~~~~~~~~~~~~~~~~~~~~~~~~~~~~~~~~~~~~~~~~~
As we well know, breakfast is considered the most important meal of the day.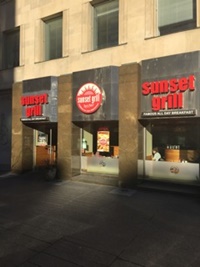 In my experience one of the best places to have that powerful meal is at the Sunset Grill.
Just steps away from the 2017 ACTO Marriott Hotel, the sunset grill is a great value for a variety of meal options.
As I began this adventure of dining and reporting I asked permission to take pictures for this post and why.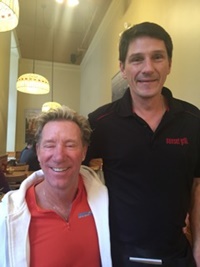 Imagine my surprise when Kirk, our efficient and pleasant server, revealed to us that he is a life coach having completed his course at a local college.
You really can't make this stuff up!
There are many great places to eat within walking distance of the hotel and I look forward to sharing more when the next post comes out.
We look forward to hosting you in Toronto in 2017.
---
Welcome to Toronto: Restaurant and Interesting Spots review
by Garry Schleifer
There is a local landmark which Patrick and I hold dear. The Windsor Arms Hotel.
Reason being is that this is where we had our first date 16 plus years ago!
Interesting described as "Contemporary American" it boasts a very clearly British concept of High Tea as well as The Living Room.
I chose to let the hotel describe itself….
Since 1927, Tea at the Windsor Arms has been synonymous with elegant, afternoon indulgence. Relax in our French-style lobby tea room or our majestic purple room with its original working fireplace or enjoy your Afternoon Tea behind the red velvet drapes in our Russian Red Tea Room. Peruse a selection of teas from Russian Caravan to Sencha; our staff will happily guide you through the myriad of tastes and aromas. Reserve the Tea Room for intimate gatherings such as corporate functions, bridal and baby showers, or get-togethers with friends. All Tea Rooms are available for either full or partial bookings.
The Living Room was created to satisfy the needs and comforts of travellers and local Torontonians alike. Windsor Arms' newest restaurant is opened from 7AM until 2AM every day. We feature over 60 local craft drafts and beers including a new menu full of delectable comfort foods. The Living Room also has a premium international wine selection, which is the proud recipient of the Award of Excellence by Wine Spectator for five consecutive years.
Patrick and I know you'll enjoy a visit to this very well known Toronto landmark.
---
Welcome to Toronto: What to do when you're in the "T dot" review
by Garry Schleifer
Call it synchronicity or coincidence or just old fashioned good timing but I was just messaged today from a friend who, like you, will be visiting Toronto this summer and wanted to know what to do when she is here.
I replied asking if she was interested in shopping or cultural events and before she sent her reply, I realized you can do all of it in any of the wonderful neighbourhoods, some of which might be having their annual festival while you're here.
Toronto (T dot) is the most multi-cultural city in Canada (even folks from Montreal and Vancouver say so) and most have their own unique neighbourhood and festivals.
Here's a link that explains each neighbourhood and what there is to see and do while you're here.
(You'll most likely be staying at the hotel which is 2: Midtown)
http://www.seetorontonow.com/explore-toronto/neighbourhoods/#sm001x8aptr1bcxdwat1v2fzget62fc
Plan to come early or stay longer than the conference so you can eat, shop and feel the culture that is our Toronto!
---
Welcome to Toronto: Garry's back and eating his way through the ACTO Conference neighbourhood for your benefit!
by Garry Schleifer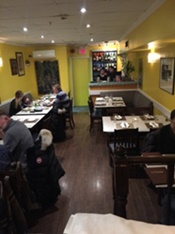 This month we decided to get back to restaurant reviews and found a wonderful Indian place call Utsav.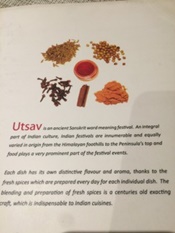 Utsav is an old Sanskrit word meaning festival…and the dished here are a festival for the mouth.
A total surprise to us was that this small kind of noisy place but in a good happy way had such nice staff and the food was amazing.
The best Indian food we've ever had.
All y'all vegetarians and vegans can eat well here. They even go so far as to NOT offer beef based on their culture.
Prices are reasonable to low and the service is very good.Here's the Trip Advisor version.
---
Welcome to Toronto: Garry's back and eating his way through the ACTO Conference neighbourhood for your benefit!
by Garry Schleifer
Sometimes one finds that the best places are right in our own backyard.
In this case the best find is literally under our own nose…the main floor of the host hotel!!
None other than "Matisse".
Not only does it have a high Trip Advisor rating (4.5/5), it is rated as the 46th of 6,794 restaurants in Toronto!
The prices are fair and the travel time is low to none… 🙂
And as you can see, there are no shortage of restaurants in Toronto.
A couple more hints of places to eat and things to do.
One of our favs is Mezes in Greektown (Danforth) a short Uber or 2-3 subway stops away.
It's a lovely and lively part of town with many Greek family run restaurants.
For things to do, just head west and you'll fin the Royal Ontario Museum (ROM) and many other smaller museums and galleries.
I hope these ideas are helping with your planning for amazing time in Toronto the Good!