La'Wana Harris – Inclusion Coaching: Practical Solutions for Diversity & Inclusion Self-Work
This session highlights the increasingly interconnected and diverse world in which we all live.  Applying a diversity and inclusion lens to the coaching profession helps us do the self-work we need as coaches/trainers while empowering our students and/or clients along their inclusion and diversity journey.
In this session, you will explore next generation diversity, equity, inclusion and belonging approaches to developing people, learn a new inclusion-based model for coaching individuals and teams, and practice applying that model. You will also learn how to address the stages of preparation, implementation, and "self-work" necessary to help individuals, teams and organizations move beyond lip service to effectively embody inclusive practices.
This workshop will go beyond the superficial levels of engagement to explore the possibilities that emerge when we become more comfortable with being uncomfortable.
---
---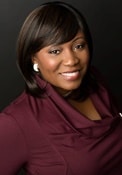 La'Wana Harris, CDE, ACC, Harris is a Certified Diversity Executive, an ICF Credentialed Coach, and a global leadership development professional who has dedicated her career to aligning performance with business strategy. She has demonstrated success strategizing a range of corporate functions including global leadership and organizational development, diversity and inclusion, people leadership, and project management. In addition, as a community activist she has created diversity and inclusion awareness programs, built culture programs, and designed overall integrated management solutions.
Spanning the decades of her professional career and social justice activism, La'Wana has received numerous industry and community awards. Most recently, La'Wana was recognized as one of 2018's 100 Most Inspiring People in the life-sciences industry by PharmaVOICE magazine. She also received the Women in Leadership award from the National Black MBA Association and was invited to join the Forbes Coaches Council as a contributor and thought leader.  She is currently serving on the global board of directors for the Healthcare Businesswomen's Association working to advance gender parity.
La'Wana is also a respected humanitarian and philanthropist. Understanding how important it is for children to read books with characters they can relate to she created two book series featuring children of color.  These books promote cultural diversity and are translated in the native languages of underserved nations.  La'Wana has donated 10,000 books in Haitian Creole to schools and orphanages throughout Haiti in partnership with Grace International.  Through her efforts, U.S. sales from these books help support young females entering careers in STEM.
A servant leader, foreign and domestic missionary, and a passionate activist, La'Wana believes in meeting people where they are to combat racism, poverty and injustice.  Her most recent book, Diversity Beyond Lip Service: A Coaching Guide for Challenging Bias, introduces an "inside out" approach for D&I work.