Coaching to Authentic Voice and Choice – Sensitivity to Systemic Context Jagruti Gala
"Not everything that is faced can be changed, but nothing can be changed till it is faced."
James Baldwin
At this disruptive time in history, we probably have more collective courage to face all that needs deep change, and we have more responsibility to make life giving choices. Before every powerful choice comes crystal clear clarity, and as coaches that is one of the greatest values we add to our clients – deep clarity. It is the bed rock of alignment and possible action. We can no longer work with the individual without addressing the system that surrounds the individual. Our coaching has to bring in larger dimensions and finer nuances of awareness, especially with respect to the client's connection to their living world and how it includes or excludes them.
This presentation will question the currently held lens on isms and it will also be an experiential process of understanding the silent but ubiquitous presence/influence of social systems, in each moment of coaching. Acknowledging and holding this in awareness expands and matures the coach's presence and it opens more for the client to get curious about, which will lead to greater clarity, alignment and possibility for the client.
---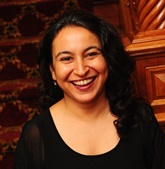 Born in India, I grew up with mind-numbing social contrast of privilege and equity confronting me with every breath, and I still ricochet between despair and wonder.
As outside, so within – a hall of mirrors reflecting my own polarities, and my life has been a journey of finding that place I call HOME, the still centre where I can hold it all with simplicity, love and transformation.
In 2007 I founded a non-profit AURA that empowers young adults who have been marginalised to step into self-leadership.
Since 2012 I am also a life and leadership coach, and a faculty member with Leadership that Works, India (www.ltwindia.com).
I am author of the book 99 Marigold Mornings – a book of prayer poems.