Bringing All Voices Into The Virtual World Jennifer Britton
With the shift to coach training to the virtual and online space, it's never been more important to ensure our training "brings all voices into the room". Join Jennifer Britton, author of Effective Virtual Conversations, for an interactive 90 minute session to discuss and explore the various approaches to creating more engaging virtual sessions with your trainees. During this session we will explore the various levers of engagement in the virtual space, design best practices and leveraging the power of visuals. You will leave with practical ideas and tools you can implement into your sessions right away.
---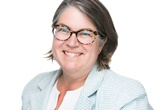 Coach, author and thought leader in the area of group and team coaching, Jennifer has been an early pioneer in the virtual and remote space. Since the early 1990s she's led teams and programming virtually, first in the international humanitarian sector, later through her company, Potentials Realized, an award-winning coaching skills training company.
Most days you'll find Jenn leading a myriad of virtual programs – from remote team development, to virtual retreats for business owners, to group coaching programs leveraging journaling.
Jennifer Britton is the author of multiple books Effective Group Coaching (Wiley, 2010Effective Virtual Conversations (2017) and From One to Many: Best Practices for Group and Team Coaching.
She's also the co-host of the Remote Pathways podcast which explores the people, places and pathways to remote work.