Topic: Trauma-Informed Coaching: What is it and why does it need to be included in coach training programs?   This forum is FREE for members, members must login to access the member registration link.  CCE approval pending.
Presenter: Nancy Forrester, MBA, B.Ed., B.Sc.
Date: September 23, 2020, 8AM PDT/11AM EDT
Public Registration: Register now

Recent understandings of the pervasiveness and biological impact of past trauma offer the coach training field both a challenge and an opportunity to expand its effectiveness.
Coaches are required to clearly communicate the distinction between coaching, consulting and psychotherapy.  There is definitely a difference but, the old idea that 'trauma' can be compartmentalized as something only dealt with by mental health professionals not only limits the potential effectiveness of coaching but may also cause unintentional harm to both client and coach.  Clients bring the residue of unresolved trauma into their coaching relationship in the form of beliefs, emotions and challenging behaviours. Coaches need to be confident when working with strong emotions and to self-manage such that they are not overpowered with client's emotions. With an understanding of what trauma is, a coach can recognize how unresolved trauma is impacting on coaching goals and develop useful strategies to minimize those effects and strengthen their ability to act.  Past events do affect current situations. It's time to acknowledge that although the Nike marketing line 'Just Do It' has a catchy ring to it, it is not only unhelpful but may actually invite harm.
Trauma – informed coaching opens the door to dealing with clients in their fullness as human beings rather than being limited to only the 'human doing' parts. A coach's job is to help clients see the different interrelated factors that affect them; a coach who has an awareness of how past trauma is impacting how their client is showing up in the world has an increased ability to facilitate significant and sustained client success.
Such change requires a client to experience emotional, psychological and biological safety both within themselves and within the coaching space.  For clients with lived experience of trauma, such safety is a significant challenge.  A trauma-informed coach can make all the difference.
This will be an interactive and practical discussion about the importance for coaches to have a working knowledge of:
What is trauma?
What is trauma-informed coaching?
How does a client's trauma experience impact success in coaching?
How does the coach's unresolved trauma experience impact on the current coach/client relationship?
What challenges does the coaching field face in moving toward a trauma-informed paradigm?
What opportunities are unleashed for coach training organization who incorporate a trauma – informed paradigm?
Some simple, self-applied techniques for nervous system regulation for both coach and client.
---
Nancy Forrester
MBA, B.Ed., B.Sc.
Clinical Member Ontario Society of Psychotherapists (Retired)
Accredited Master EFT Trainer of Trainers (EFTInternational)
Executive Director, National Emotional Freedom Techniques Training Institute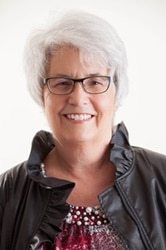 Nancy Forrester is a clinical psychotherapist (ret'd), coach, international speaker, corporate consultant and Canada's only Accredited Master Trainer and Trainer of Trainers in Emotional Freedom Techniques (often referred to as EFT or Tapping).
Thirty years ago Nancy left a successful post-secondary academic career when a series of life events left her with anxiety symptoms that her intellectual capacity couldn't manage.  In the process of growing beyond those symptoms she discovered she had a body which was apparently meant for more than simply holding up her brain!  This led her on a path of deep study of trauma; how it impacts the body, mind and spirit and how unresolved trauma shows up in the here and now.  Nancy's unique background as a scientist, adult educator, coach and therapist has led her to passionately believe in the absolute requirement for a trauma-informed approach in both therapy and coaching.
Nancy founded the National EFT Training Institute in 2012 out of a desire to bring transformation trauma-informed coaching and therapy to a broad audience of professionals. NeftTI offers professional-level training, mentoring and certification to active psychotherapists, medical professionals, social workers, personal and business coaches, holistic practitioners as well as people transitioning to becoming transformational coaches.  NeftTi's trainings are renowned for their high standards, trauma-informed approach, high level of warmth and personal engagement as well as post-training involvement in a closely held community of like-minded practitioners.
You can learn more about Nancy and her work at neftti.com