| | |
| --- | --- |
| Virtual Conference | |  September 14-16, 2022 |
| |  9 am to 3 pm ET |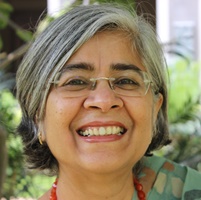 Rashmi Datt
Speaker
Intersection of Coaching, Psychodrama and Essence of Vedic Wisdom
Viewing the client from a humanistic lens of being creative, resourceful, and whole, in this interactive session we will experience:
The power of psychodrama in coaching, where the objective is the strengthening of the 'Self'; widening of reflexivity and consciousness
Demonstrate some of key Psychodramatic techniques: Role Reversal, Doubling, Mirroring, Auxiliary Ego Empty Chair, and how they are linked to developmental theory
Understanding transformation as the process of arriving at the true nature of 'I' -the apparently divided self becomes whole.
The thoughts change but not you. Let go the passing thoughts and hold on to the unchanging Self. ~Sri Ramana Maharshi
Dr. Jacob Levy Moreno, founder of psychodrama, can be credited with being the critical creative source for the ideas and techniques of the human potential movement which inform the guiding principles of every coach training. Many of the principles and techniques used in coaching are based on the theories and techniques created by Dr. Moreno. It is well documented that many of the humanistic theorists learned with and from Moreno. Ultimately the principle, the background, the foundation of every wisdom tradition is not different.
Biography
Rashmi founded Dialog Services –a training and coaching practice in 1993 after working with Pfizer for 8 years. With over 35 years experience, she is known for her warmth, clarity and capacity to design and facilitate interactive learning environments She is the CEO of Vedadrama, founded by Dr Jochen Becker-Ebel, which provides training for certification in Psychodrama. Vedadrama is accredited by the German Humanistic Psychodrama Institute PIB, Hamburg. She coaches CXOs, challenging them to deal with issues they have been avoiding, and empowering them to see the gifts which they have not been acknowledging. She has authored two books: "Managing Your Boss", translated into Mandarin and bahasa Indonesia; "And the Lion Smiled at the Rabbit- Manage Emotions to Win". https://rashmidatt.com/