| | |
| --- | --- |
| Virtual Conference | |  September 14-16, 2022 |
| |  9 am to 3 pm ET |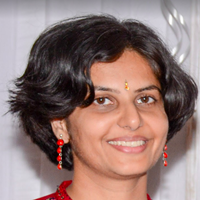 Garima Gupta Kapila
Speaker
A Yogic Approach to Empowering our clients to Self-heal
How can the ancient Indian philosophy of "Yog" enrich modern day coaching?
Behind the seemingly diverse goals of clients we work with, is a common, transformational agenda – to transcend boundaries imposed by limiting beliefs, find freedom through self-expression and thus come closer to living their own potential. This freedom, called Moksha in Sanskrit, is what the ancient Indian philosophy of Yog offers. Yogi Swami Vivekanand defined Yoga as a means of compressing one's evolution into a single life or a few years or even a few months of bodily existence. Yog is not Yoga, a set of Instagram-ready physical contortions for flexibility, strength and beauty.
Discover the multi-dimensional, Yogic view of human existence and a range of tools that coaches and clients can practice, within and outside sessions, to harmonize the different dimensions of their being. Use the overarching frameworks to discover tools in your own cultural or social heritage.
Biography
Garima Gupta Kapila serves as an Executive Trustee of Swasth Foundation. She founded Swasth Yog Institute (SYI) in 2017, with the vision of health and joy for all. Today, SYI has delivered over 50,000 person hours of well-being services to 15,000+ people with an average 4.7 star satisfaction and 50% reduction in symptoms. SYI is creating a new cadre of integrative health professionals, Swasth Yog Coaches, who enable sustained wellbeing for people by harmonizing their body, energy, mind and emotions. In doing this work, Garima integrates her education and experience in Computer Science & Engineering, management consultancy, non-profit management, Yoga, Life Coaching, Nutrition and Public Health Research, and continues to learn through formal education, and most importantly, through life.